WHIM
(acoustic 60's – 90's)
Whim Wisatuporn Jingjit's acoustic session starts our weekly music schedule every Wednesday. Originally from the coastal town of Trang, Whim learned to play the guitar from his father, who was a teacher and a musician. His first band from high school was influenced by hard rock, grunge, and '90s Indie music. Once he'd moved to Bangkok he started hanging out at AdHere 13th Blues Bar, where he learned to play blues from Pi Pong, the legendary bar's owner and one of Thailand's best guitar players. He formed a blues band called The Vintagers, which has been present on the Bkk's live music scene for over a decade. Whim has a wide repertoire and can take you through various musical genres with his smooth voice and versatile guitar skill. Very often he's joined by fellow musicians, therefore we've learned to always expect the unexpected on his nights. Joins us on any Wednesday night and see for yourself!
PAWNSHOP BOSSES BAND
(acoustic classic hits)
Every Thursday night is the time for the Pawnshop Bosses Band – a name that represents the living legends of Bangkok's live music scene – Frank and Elle. Frank being 78 and Elle 72, they are probably one of the longest performing duos in the world! They are simply a must-see act, as their music career spans from the time of the Vietnam war when Frank had played for GI's at the infamous Patpong, through the 80s when they tied the knot and began performing together, then spent six years in India, before they came back to Bkk where they have performed in over 60 venues so far. Their repertoire will take you through various eras, as they flip through several thick handwritten songbooks (such a rare sight nowadays) while chatting with the audience in between the songs. They will grant you any request if they know it, but you will also learn a lot about music trivia and recent history of Bkk. Get ready to laugh and cry, and even take the stage if you can sing your favorite tune!
SARARN QUARTET
(jazz/pop/rock)
Sararn Quartet is one of the most electryfing bands in Bangkok, owing to the powerful voice of Sararnrat  Chooamnart aka Kang, and the band leader Buddy Meesaiyaat's amazing guitar skills. As he comes from the famous Brown Sugar Jazz Boutique family, Buddy has been tied to music his whole life, and nowadays it can be said that he is one of the best jazz guitarists in Thailand. The rest of the band switches depending on the availability of the members, but they are all fantastic musicians that add to the band's powerful sound. They will definitely surprise you with their repertoire as it spans from Amy Winehouse and Cyndi Lauper to Jon Bon Jovi and The Beatles. One thing is guaranteed, you will be blown away!
AFK TRIO FT. POPPY
(jazz)
One of Bangkok Mojo's main goals is to create a community and support young musicians by giving them a chance to perform and hone their skills. AFK Trio ft. Poppy are the new generation of jazz musicians that have chosen Bangkok Mojo as their home where they can truly express themselves while providing a supreme musical experience for our patrons. As students of Silpakorn University's Faculty of Music, they represent the future of Bangkok's live music scene, and many of their colleagues come to these jazzy Sunday nights to jam, making the evening always exciting and unpredictable.
LIL' MOSS AND THE BONETONE (ex Bangkok Mojo)
(Chicago Blues)
Many of our customers get confused about the name of our bar and the band Bangkok Mojo, and which came first! The full name of the band is Daddy C & Bangkok Mojo, as it was formed by the owner of the bar – the bandleader, vocals and harmonica player – Puree Muadmuang aka Daddy C. The band had initially performed as Jukes (with a slightly different set up) since 2011, and it was the first jump blues band in Thailand, highly praised by its authentic blues sound and tight arrangements both by foreign and local blues lovers. The band played in numerous live music venues in Bangkok (AdHere the 13th Blues Bar, Apoteka, Black Cabin, Saxophone, Beer Republic, Maggie Choos, etc.). Due to several changes of members, Daddy C changed the name in 2018 to Daddy C & Bangkok Mojo, which inspired us to name the bar Bangkok Mojo as well. Since running the bar takes quite a lot of time and effort, he suggested to the rest of the band members to continue performing under a new name with Moss as the main vocals and guitar – Lil' Moss and The Bonetone. However, when they play at the bar, Daddy C joins his band for a few songs. So, if you are a true blues lover, this is an experience you will appreciate for sure!
LIPS MANLY
(neo vintage swing pop)
Every Saturday, Lips Manly present their unique Neo Vintage Swing Eclectic Pop style. All the covers and originals have been heavily "lipsified" by the frontman Will Christopher Corbin, a man from Florida with the ukulele and a mic with special powers! Powered by the French drummer Ludovic and Thai guitarist Pong, Will  delivers the most incredible renditions of Depeche Mode, Police, David Bowie, Talking Heads, Dead or Alive, Bruce Springsteen, Blondie and even throws in some rap and sings in Thai, and soooo much more! If you're familiar with these names, we guarantee you will jump up to the ceiling, and if not, well then even more reason to educate yourself by coming to the gig! Just beware of irreversible addiction symptoms after a quick exposure! We've already got them all!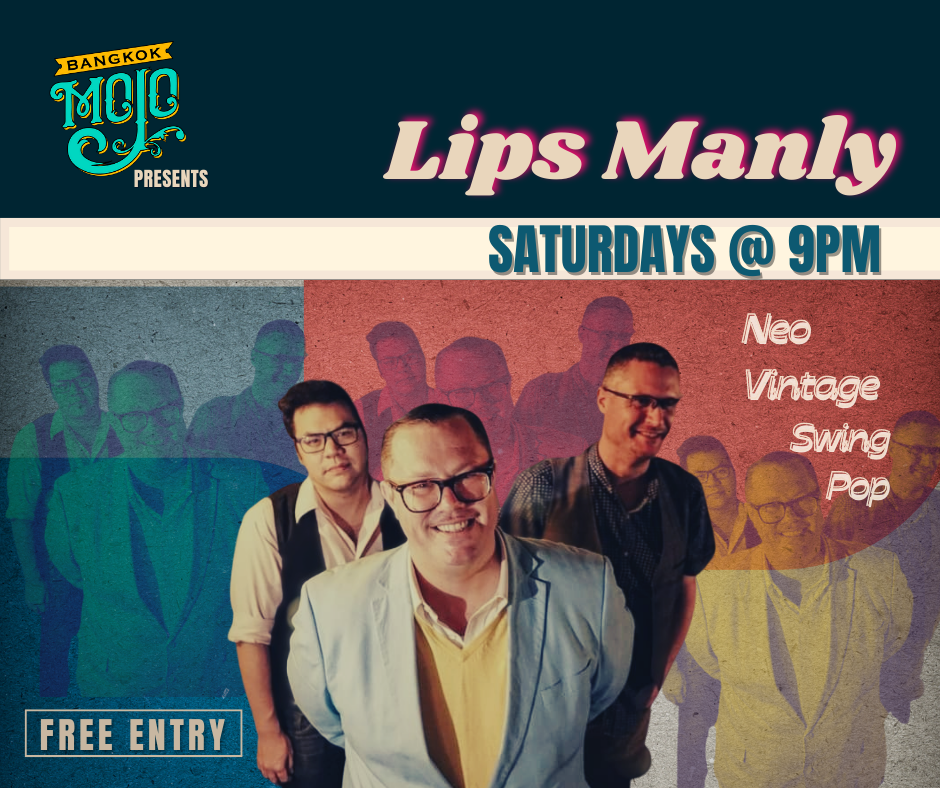 Luna All In is one of our Friday bands, depending on availability of their leader, Tankakrit Korat, one of the best jazz pianists in Thailand. Originally from the northeastern city of Nakhon Ratchasima, Thailand, Tanakrit graduated from the University of North Texas where he studied with Dave Meder, Pat Coil, Sergio Pamies among others. After graduation, he moved to New York City in 2019 to experience the music culture the city has to offer. Other members are graduates of Silpakorn University's Faculty of Music including several talented singers that perform in some of the best jazz venues in Bkk. One thing is for sure, Luna All In and our home venue are a perfect match that offers a great live jazz experience for all live music lovers.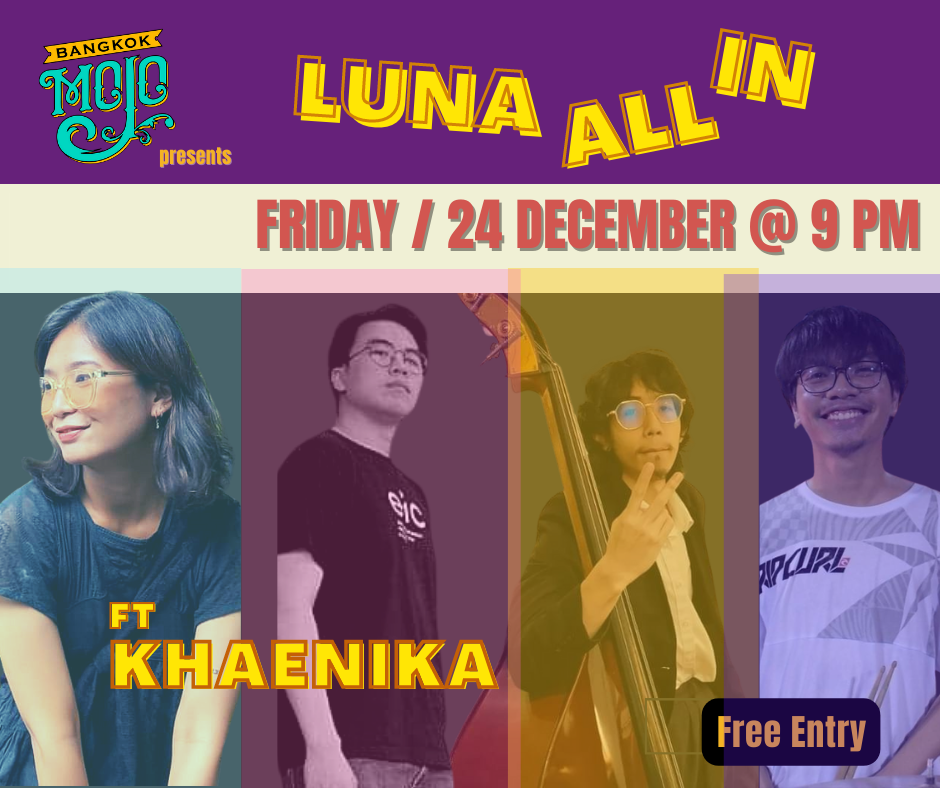 Visit
Charoen Krung 43, Bangkok
Free parking Soi 39 
opening times
Mon & Tue: closed
Wed – Sun: 7pm – 12am